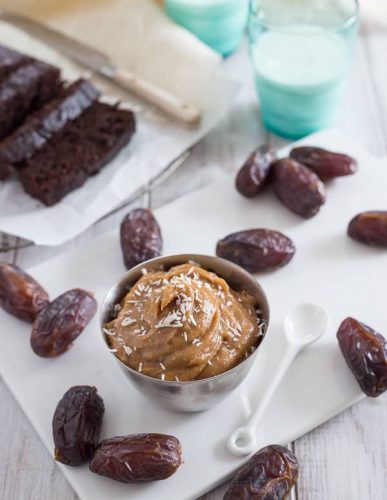 Looking for a healthy natural source of sweetness for your meals? Look no farther. Some dates may just be sitting in your pantry. Why not turn them into a delicious date spread? It's so easy to make with just two ingredients – dates and water. Presto – you have date paste! It's a healthy alternative to refined sugars. Use it when baking instead of maple syrup, honey, white sugar or beet sugar. However, some people like their spread with a bit of flavour, so they add a pinch of salt and vanilla extract to their spread.
According to experts, dates are often blended into condiments and baked products but most people don't notice the distinct sweetness. For that, they're labelled 'behind-the-scene' sweeteners mixed into sauces, spreads, snacks and so on.
The Amazing Date Paste
This plant-based sweetener has acquired popularity amongst dieters since the sugars found in dates are considered 'naturally occurring' and thus, could not be counted as added sugars on the Nutrition Facts label. Hence, you need not feel guilty when indulging since you can satiate your cravings as you would naturally. If you're vegan, date spread is perfect to use.
How healthy are date spreads? Well, nutrition experts say that the sugar and syrup in dates contain potassium, magnesium, amino acids and antioxidants. That said, you can use your date spread anytime you crave but there are so-called 'perfect moments' to use a date spread.
Breakfast Moments
Because you've been asleep all night long, there's a need to 'break the fast' the following day. This is the perfect moment to use date spread on your morning oatmeal, toast or English muffin to give you the energy you need for the whole day.
According to experts, breakfast is the most important meal of the day so you need proper nourishment to go about your day full of vitality. What an ideal time to satisfy your sweet craving – with date spread to sweeten your smoothie or even your favourite coffee.
Snack Time Moments
Some people like those on a diet can do away with snacks yet, there are many who like to take a break in between and have some light refreshments. Date spread on your peanut butter sandwich – why not? Or a fruit-based ice cream topped with date spread!
Diet conscious persons usually take a mix of carbs and protein for their snacks. If you're one of them, try a dash of date spread on a slice of apple or any of your favourite fruit or vegetable.
Afternoon Tea Moments
Use date spread as a sweetener to your tea, coffee or yoghurt and relish it with 2 slices of wheat bread with date spread in between. This can keep you energised through dinner time!
If you're going for 100% pure date spread, go to this link and be amazed to find a sticky treat made from 4 kinds of Persian dates!